5
9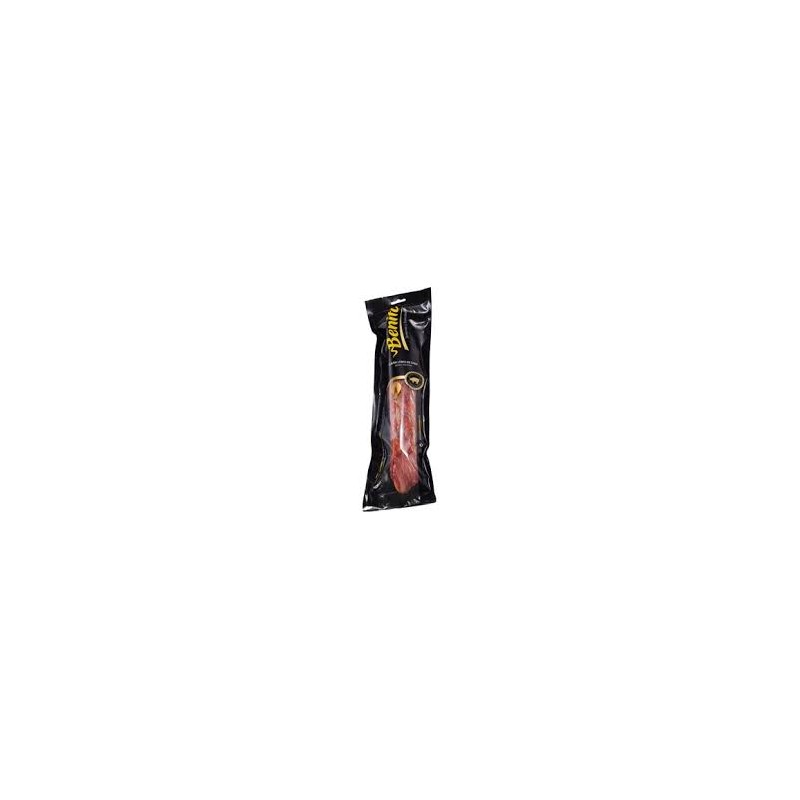  
Benito single-fattened Iberian 50% pork loin
Benito  single-fattened Iberian 50 % pork loin

Free shipping
over 70 €
DELIVERY 24 / 48 h
urgen service

Support and advice
More information about this product
Benito Iberian 50% pork loin sausage . Made with meat from pigs fed on natural pastures and fodder during the mountain fattening stage. Over 120 days of curation.  

Ingredients: Iberian pork loin, salt, spices, sugar, dairy, preservatives(E-252, E-250), antioxidant (E-301)
 
Organoleptic features
Touch: firm, compact, with light collapse when pressed. 
Sight: cylindrical shape, with soft grooves of variable length. Homogeneous, smooth rosy cut, with pale white fat filtration.

Recommendations: aerate piece before consumption to better appreciate its aroma and flavor. Once opened, consume within 1 month.
 
Conservation : keep at low temperatures (5 - 10° C).
 
Presentation : individually vacuum packed loin.
 
Data sheet
Origin

Quality and Racial Purity

De Cebo 50% Raza Ibérica

Maturation

120 days approx.
Specific References
EAN13

8410468022636
Shipping Cost
Shipping to
Cost

Free shipping

over

Peninsula and Portugal (except islands)
4,95€
70€
Balearics
7,50€
150€
France and Germany
15€
200€
Austria, Belgium, Czech Republic, Denmark, Holland, Hungary, Italy, Luxembourg, Poland, Switzerland and United Kingdom
20€
300€
Slovenia, Estonia, Finland, Ireland, Latvia, Lithuania, Slovakia, Romania and Sweden
30€
400€