4.52
25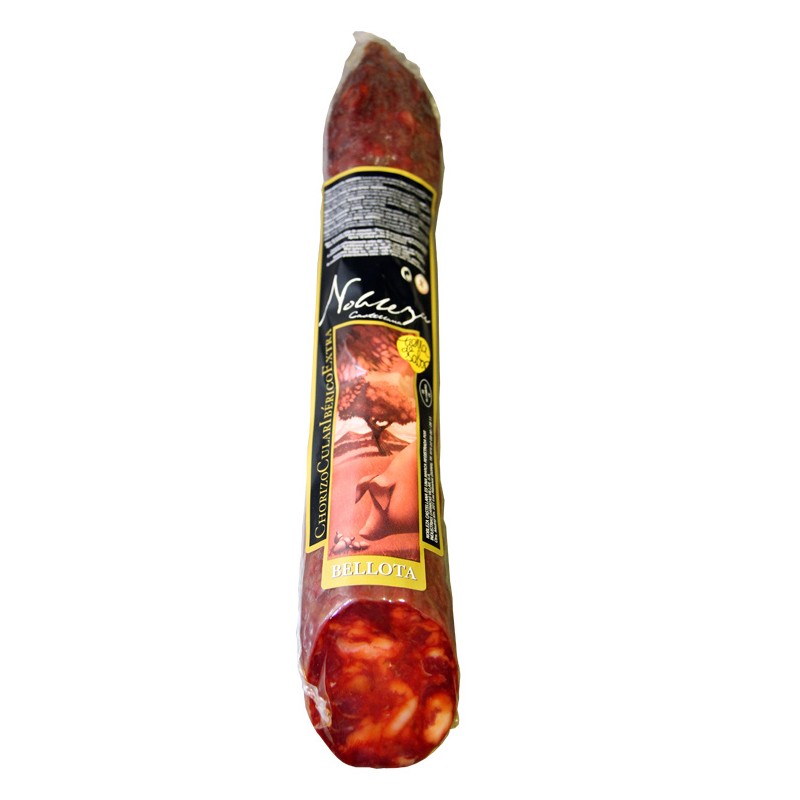  
Castilian Nobility Iberian Bellota chorizo
Castilian Nobility Iberian Bellota cular chorizo, certified origin Extremadura, vacuum-packed.
Sale: 13€/kilo.

Free shipping
over 70 €
DELIVERY 24 / 48 h
urgen service

Support and advice
More information about this product
Castilian Nobility Iberian pork chorizo from the Extremadura DO, raised free-range in meadows and fed with acorns.
To make this product, the best lean meats are selected. Seasoned with authorized spices and additives. Slowly matured in drying cellar. Stuffed in hand-picked guts, caliber 70-75.
The Castilian Nobility Iberian pig product line originate from a strict genetic, morphological and nutritional selection, as well as a carefully controlled diet all the way from the source.
Ingredients: Iberian pork, salt, lactose, dextrin, soy protein, spices, sugar, stabilizer (E-450 iii), milk proteins, antioxidant (E-316), preservatives (E-252, E-250) and colouring (E-120).
Organoleptic features
Touch: firm, compact consistency.
Sight: cylindrical shape, rugged appearance, with the gut solidly attached to the meat mass. Notable coverage of mildew, due to curation. Bright red coloration, smooth and well connected with multiple whitish fat filtrations. Clean differentiation between meat and fat.
Recommendations: allow piece to aerate before consumption to better appreciate its aroma and flavor. Once opened, consume within a period of 1 month.
Presentation: the piece is individually vacuum packed.
Conservation: keep at low temperatures (5 - 10° C).

Shipping Cost
Shipping to
Cost

Free shipping

over

Peninsula and Portugal (except islands)
4,95€
70€
Balearics
7,50€
150€
France and Germany
15€
200€
Austria, Belgium, Czech Republic, Denmark, Holland, Hungary, Italy, Luxembourg, Poland, Switzerland and United Kingdom
20€
300€
Slovenia, Estonia, Finland, Ireland, Latvia, Lithuania, Slovakia, Romania and Sweden
30€
400€