3
1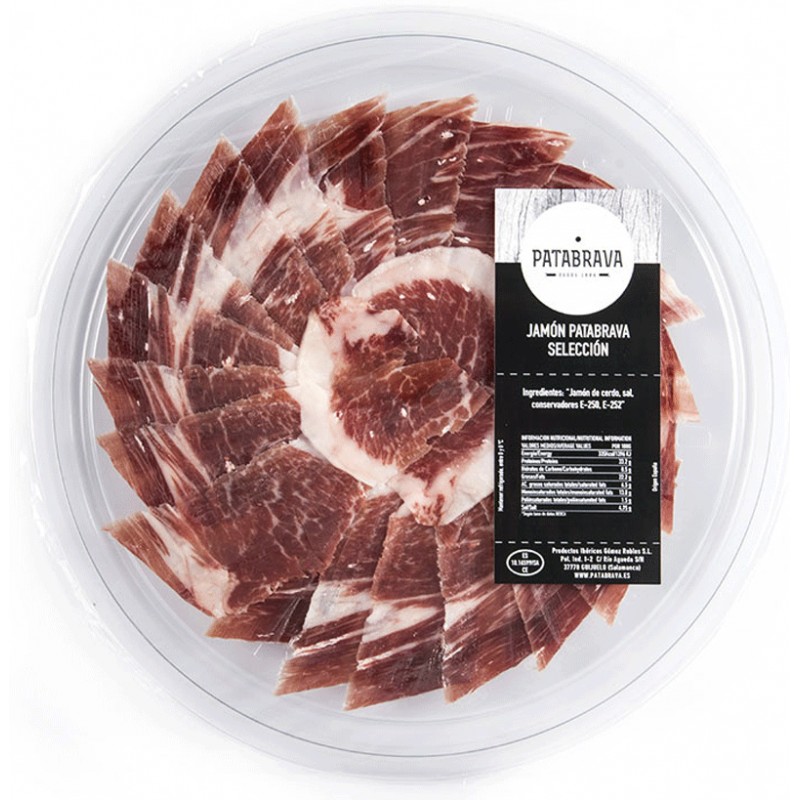  
Patabrava Iberian ham, DO Guijuelo, sliced - 80g packs
Patabrava Iberian ham from Guijuelo, cured for over 40 months, hand-sliced with a knife and packed in practical 80g packs.

Special offer available in our online store, brought directly from the source at an unmatched price.

Free shipping
over 70 €
DELIVERY 24 / 48 h
urgen service

Support and advice
More information about this product
Iberian ham from Patabrava (Guijuelo), raised in the meadows of the Iberian Peninsula and fed on acorns in free-range fattening. Considered one of the "noble" pig meat cuts, from the hindquarters, once slaughtered and quartered, they are completely untreated save for salting. Then, it will be Guijuelo's cold dry air that will take care of the drying, and its time in the drying cellars will give the meat its unmistakable bouquet.
Cured for 34 months, with a strong natural aroma and a sweet flavour.
Patabrava hams are certified under the Guijuelo D.O, complying with all the requirements of this Designation of Origin.
Shipping Cost
Shipping to
Cost

Free shipping

over

Peninsula and Portugal (except islands)
4,95€
70€
Balearics
7,50€
150€
France and Germany
15€
200€
Austria, Belgium, Czech Republic, Denmark, Holland, Hungary, Italy, Luxembourg, Poland, Switzerland and United Kingdom
20€
300€
Slovenia, Estonia, Finland, Ireland, Latvia, Lithuania, Slovakia, Romania and Sweden
30€
400€