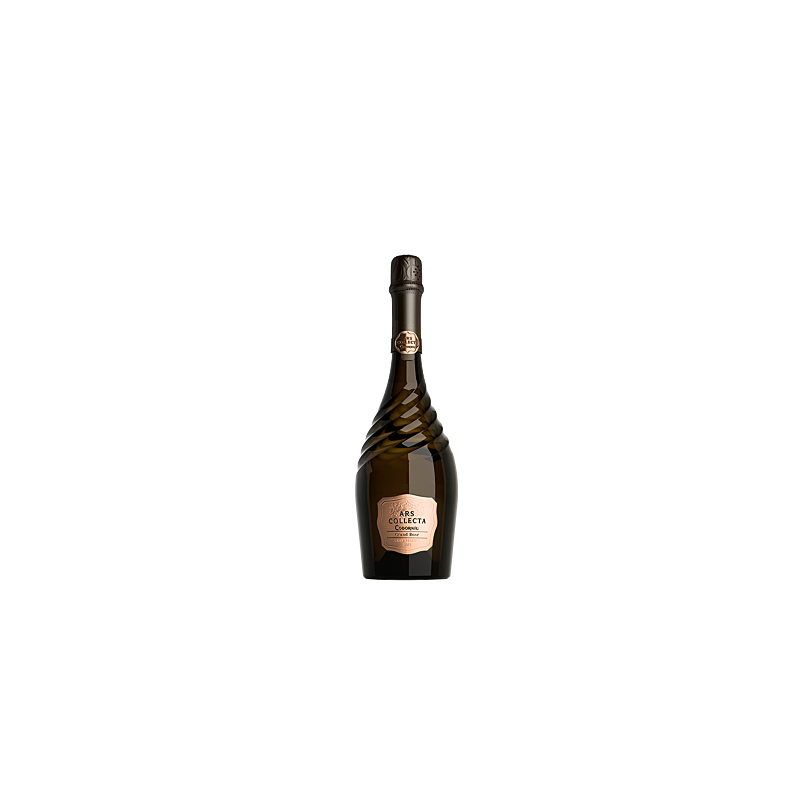  
Ars Collecta Blanc de Blancs
Ars Collecta Blanc de Blancs
PRODUCTION REGION: D.O. Cava
AGING: Aging +30 months
VARIETIES: 85% Chardonnay, 15% Xarello and Parellada
ANALYSIS: Alcoholic degree: 11.5%. Total Acidity: 7g / l. pH: 2.91. Residual sugars: 8 g / l. Contains sulfites.

Free shipping
over 70 €
DELIVERY 24 / 48 h
urgen service

Support and advice
More information about this product
Ars Collecta Blanc de Blancs
Ars Collecta, the legacy of almost five centuries of oenological know-how. The experience and exhaustive knowledge of our vineyards have allowed us to create this unique blend of varietals from two climatic zones and from vineyards where the varietals show their greatest potential. Chardonnay, the main varietal of this coupage, provides freshness and aging potential thanks to the continental climate, rounded off with Xarello and Parellada del Penedès with a Mediterranean climate. A great reserve, complex, expressive and with guaranteed longevity
Winemaking
Cava made from the selection of vineyards where the varietals show their greatest potential and expressiveness. Chardonnay, the predominant varietal, from Costers del Segre with a continental climate, Xarel·lo from the central plain of the Penedès and Parellada from high-altitude vineyards of Pla de Manlleu, both areas with a Mediterranean climate. Night harvest in early August, taking advantage of the cool temperature and avoiding the oxidation of the grape aromas. Upon arrival, it was gently pressed in a pneumatic press and the must was fermented in small batches at 17 ° C; a small percentage of the must is vinified in French foudre ennoblement of the blend. After aging for 35 months at a constant temperature between the thick walls of our cellars, this Blanc de Blancs gran reserva has a long life ahead of it. The whole process that we follow to make this cava aims to respect what the earth gives us and to achieve a fresh cava with high aging potential.
Viticulture
The vintage can perhaps be described as one of the best in recent years in our Costers del Segre vineyards. The weather was very favorable: the low rainfall favored a very healthy harvest and the cool temperatures at night and warm during the day, an optimal ripening. Although the start of the cycle was delayed somewhat more than usual, the high temperatures during the spring and summer were matching what we could consider a normal cycle. The cold nights, the warm and sunny days and the total absence of rain allowed us to wait as long as possible to obtain fully ripe white grapes and very good aromatic intensity. Some vineyards were carefully selected for their qualitative potential and they were harvested at different times to seek more aromatic richness and complexity; so we expect very tasty and pleasant wines. An exceptional year for whites. In the Penedès, a hot summer gave us intense Xarel lo grapes, with an inspiring varietal definition whose fruit load remains even in the oldest cavas. Harvest: From August 8. Print run: June 2016
Sensory characteristics
At sight, a warm yellow color with golden reflections, clean and bright. Fine bubbles that form continuous rosaries and a persistent crown that indicates good fermentation in the bottle. Soft toasted notes appear on the nose, interspersed with stone fruits: peaches and nectarines, on a background of brioche and dried fruits from long aging on lees. Very complex, with elegant notes and an aromatic breadth that improves with time in the glass. On the palate it is wide, complex, balanced and creamy. Pairing This cava provides an extraordinary smoothness conferred by the Chardonnay variety. This unctuousness, combined with the extremely high acidity, opens up a wide range of gastronomic combinations. All kinds of seafood (prawns, crayfish, scallops, barnacles), fish with soft sauces and prepared raw (sashimi, sushi, carpaccio or tartare), cod, monkfish, all kinds of rice, lightly seasoned and smoked meats. It is also a good companion to tasting menus, gastronomic appetizers and fruit-based desserts. Consumption period Optimum consumption period: The cava will continue to age well in the bottle as long as it is in adequate storage conditions
Data sheet
PRODUCTION REGION: D.O. Digging
AGING: Aging +30 months
VARIETIES: 85% Chardonnay, 15% Xarello and Parellada
ANALYSIS: Alcoholic degree: 11.5%. Total Acidity: 7g / l. pH: 2.91. Residual sugars: 8 g / l. Contains sulfites.
Tips from the winemaker
Consume cold (between 8º-11ºC). If necessary, chill for a couple of hours in an ice bucket with salted water. Avoid sudden chilling in the freezer. We recommend its vertical storage.
Shipping Cost
Shipping to
Cost

Free shipping

over

Peninsula and Portugal (except islands)
4,95€
70€
Balearics
7,50€
150€
France and Germany
15€
200€
Austria, Belgium, Czech Republic, Denmark, Holland, Hungary, Italy, Luxembourg, Poland, Switzerland and United Kingdom
20€
300€
Slovenia, Estonia, Finland, Ireland, Latvia, Lithuania, Slovakia, Romania and Sweden
30€
400€