5
1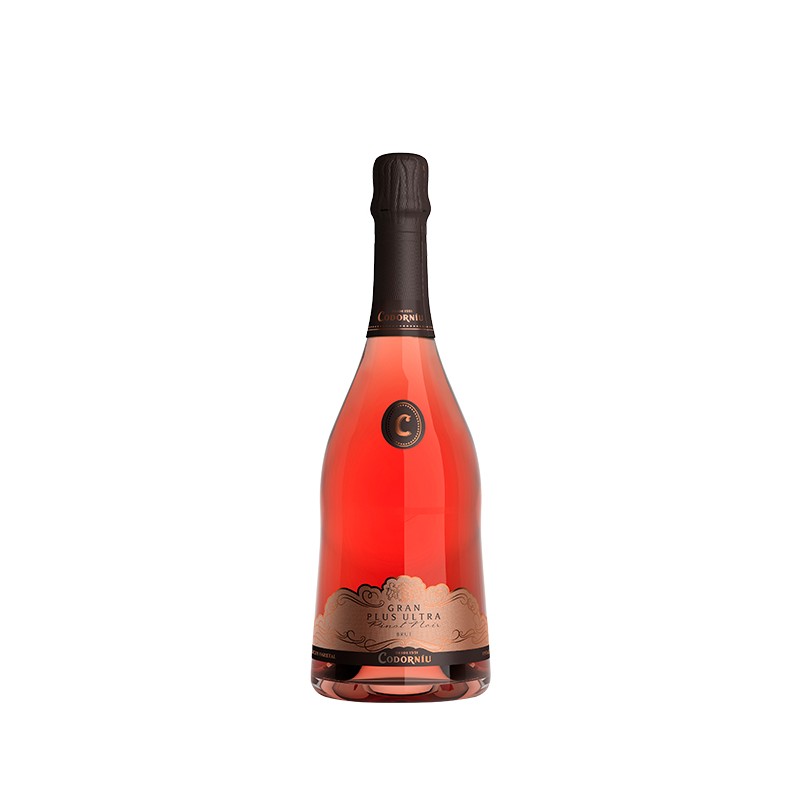  
Cava Gran Plus Ultra Pinot Noir
Cava Gran Plus Ultra Pinot Noir
Presentation: 750 ML

Brand:
Gran Plus Ultra Pinot Noir 
Origin:
V.E.C.P.R.D.


Grape varieties:
100% Pinot Noir


Proof:
12%



Free shipping
over 70 €
DELIVERY 24 / 48 h
urgen service

Support and advice
More information about this product
Gran Plus Ultra Pinot Noir
Tradition and innovation since 1551. Cava creators and forerunners in the use of new varietals. GPU Pinot Noir was the first cava made in Spain 100% with this prestigious variety, this cava is a tribute to that pioneering spirit. The exclusivity of this variety offers a daring, elegant brut with beautiful pale cherry tones. With the oldest expression of Pinot Noir in Spain, Codorníu has become a great specialist in this grape.
Winemaking
We start by planning the optimal time for harvesting, looking for a good level of coloring matter in the skin as well as considerable acidity and moderate alcoholic content. After destemming the grapes, we let it macerate, leaving the must in contact with the skins for about 3 or 4 hours. Subsequently, the must, already pink in color, is filtered and selected yeasts are added to start the fermentation at a temperature between 15º and 17ºC. After making the assembly, we bottle the wine together with the tirage liqueur (a mixture of sugar and selected yeasts). The bottles are lowered into the underground cellars (at a constant temperature of 17ºC) where a second fermentation takes place, which lasts about 8 weeks, followed by an aging period in contact with the yeast lees. In total, the wine will spend a minimum of 12 months in the winery, after which it is stirred (decanting of the bottles to facilitate agglutination and subsequent removal of sediments) and disgorging, at which time the deposited sediments are removed. after the second fermentation. Subsequently a quantity of expedition liquor is dosed that will determine its Brut dosage. Finally, the bottle is permanently covered with a cork stopper.
Viticulture
Pinot Noir grapes come from only 5 or 6 own vineyards. These vineyards are the oldest in Spain and are located in the region with a more continental climate in the D.O. Cava, in Lleida. This climate favors an optimal concentration of the fruit, more body and greater aromatic intensity. The soils are poor and shallow, which avoids excessive vigor in the vineyard. Controlled deficit irrigation (RDI) techniques are used applying water stress in certain stages to favor aromatic concentration. The cultivation systems follow the criteria of integrated production and are specially adapted to the production of sparkling wines. The Pinot Noir grape harvest takes place around mid-August and always takes place at night, in order to keep the grapes as fresh as possible and thus maintain their full aromas and avoid oxidation processes or spontaneous fermentations.
Sensory characteristics
Delicate medium-toned salmon pink color. Fine bubbles and delicate crown. The aromas of raspberry, blackberry and strawberry are joined by a light citrus aroma that enhances the previous ones and brings freshness. In the mouth, the notes of red fruits stand out, it is fresh, balanced and the bubbles favor the sensation of creaminess, enhanced by its aging in contact with yeasts. Pairing Excellent companion to consistent appetizers or fish rice. Perfect with salmon and raw oily fish (in sashimi, sushi, carpaccio or tartare) or grilled, since their acidity balances the fat content of these fish.
Data sheet
PRODUCTION REGION: D.O. Digging
VARIETIES:100% Pinot Noir
ANALYSIS: Alcoholic degree: 11.5º - 12º Residual sugars: 6-8 gr / l. Contains sulfites
Tips from the winemakerConsume f river (between 6º-8ºC). If necessary, chill for a couple of hours in an ice bucket with water, salt and ice. Avoid sudden chilling in the freezer. Can be stored vertically.
Shipping Cost
Shipping to
Cost

Free shipping

over

Peninsula and Portugal (except islands)
4,95€
70€
Balearics
7,50€
150€
France and Germany
15€
200€
Austria, Belgium, Czech Republic, Denmark, Holland, Hungary, Italy, Luxembourg, Poland, Switzerland and United Kingdom
20€
300€
Slovenia, Estonia, Finland, Ireland, Latvia, Lithuania, Slovakia, Romania and Sweden
30€
400€