4.38889
18
Offers On sale!

Offers -25%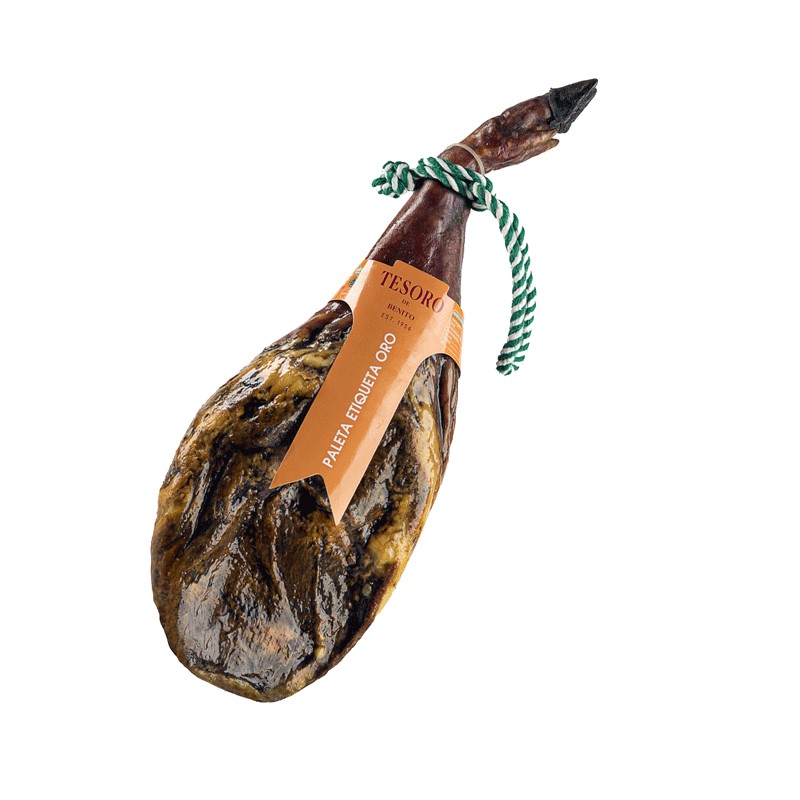  
Benito Gold Label shoulder
Benito pig shoulder, from pigs raised on acorns and natural pastures and cured between 24 and 30 months. Weight: 4,5-5kg. Free shipping within the Iberian Peninsula.

Free shipping
over 70 €
DELIVERY 24 / 48 h
urgen service

Support and advice
More information about this product
 Jabugo ham, 24-30 month curation, 4,5-5 kg weight.
Made from free-range pigs fed on acorns and natural pasture, with meat treated and cured for over 24 months. This piece brings a precise and intense yet pleasant flavour, and its high content in oleic acid makes it a recommended delicatessen for the most health-conscious gourmet.
These acorn-and-pasture-fed pigs are raised in the meadows at Sierra de Aracena and Picos de Aroche, an environment with with unmatched weather conditions for the curation and production of the best Iberian ham.
Fully guaranteed.
Data sheet
Maturation

More 18 months

Healing room

Secadero natural de Jamones Benito, Carretera. San Juan del Puerto-Cáceres nº 3. 22190 Jabugo (Huelva)
Shipping Cost
Shipping to
Cost

Free shipping

over

Peninsula and Portugal (except islands)
4,95€
70€
Balearics
7,50€
150€
France and Germany
15€
200€
Austria, Belgium, Czech Republic, Denmark, Holland, Hungary, Italy, Luxembourg, Poland, Switzerland and United Kingdom
20€
300€
Slovenia, Estonia, Finland, Ireland, Latvia, Lithuania, Slovakia, Romania and Sweden
30€
400€