5
2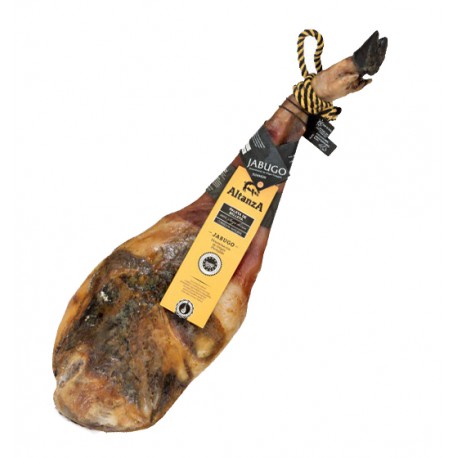  
100% Iberian Bellota aleta DO Jabugo SUMMUM Altanza
SUMMUM Iberian Bellota Jabugo ham DO Huelva Sierra de Jabugo. Cured for about 24 months, this is the highest grade among the Sierra de Jabugo signature products. Not only that, the SUMMUM category is the absolute highest grade a product from the Huelva DO can earn.

Free shipping
over 70 €
DELIVERY 24 / 48 h
urgen service

Support and advice
More information about this product
These shoulder cuts come from the same pigs as the famous Huelva D.O. hams - Iberian pigs raised in open, exptensive farming, fattened free-range on acorns and pastures in the Spanish meadows.
These shoulders are cured for approximately 2 years in our natural drying cellars at Huelva's mountain ranges.
The quality is at all times twice-controlled: by external company certification, and by the technicians of the Huelva Designation of Origin.
Data sheet
Origin

Quality and Racial Purity

Acorn 100% Iberian breed

Maturation

24-30 months

Ingredients

Iberian pork shoulder, salt, sugar, acidity regulator (E 331iii), preservatives (E 252, E 250), antioxidant (E 301).

Nutritional information

AVERAGE NUTRITIONAL VALUE PER 100g: Energy value: 1394 kJ 335Kcal Fat: 22.2g of which saturated: 6.53 g Carbohydrates: 0.5g of which sugars: 0.0 g Proteins 33.2g Dietary fiber: 0g Salt: 4.83g
Shipping Cost
Shipping to
Cost

Free shipping

over

Peninsula and Portugal (except islands)
4,95€
70€
Balearics
7,50€
150€
France and Germany
15€
200€
Austria, Belgium, Czech Republic, Denmark, Holland, Hungary, Italy, Luxembourg, Poland, Switzerland and United Kingdom
20€
300€
Slovenia, Estonia, Finland, Ireland, Latvia, Lithuania, Slovakia, Romania and Sweden
30€
400€