3
1
Offers On sale!

Offers -20%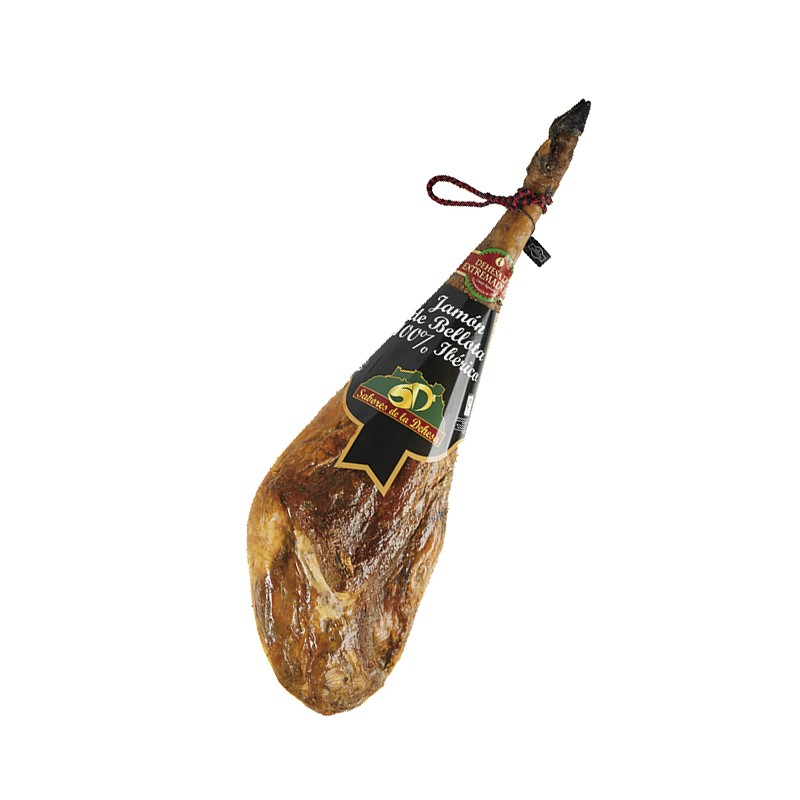  
SABORES100% IBÉRICO BREED BELLOTA HAM . D.O DEHESA DE EXTREMADURA
Sabores 100% Iberico Breed Bellota Ham with Certified Denomination  Origin Dehesa de Extremadura.


Free shipping
over 70 €
DELIVERY 24 / 48 h
urgen service

Support and advice
More information about this product
CERTIFICATIONS: Product elaborated in accordance with the requirements established by the Regulation of the Denomination of Origin of "James y Paletas Dehesa de Extremadura" and its Regulatory Council, authorized by the Ministry of Agriculture, Industry and Commerce, in Decree 34/90 of May 15, 1990 and its successive modifications and published in the Official Gazette of Extremadura.
Product marked by the Overseers of the Regulatory Council after verifying its quality by affixing a label with the special stamp of the Denomination of Origin "Dehesa de Extremadura".
Product in compliance with the requirements of the current "Quality Standard for Iberian ham, shoulder, shoulder and loin", Certificate of Product and Process Conformity granted by Calicer, file PI/0151/04, Date of issue October 20, 2004
Characteristics of Iberico ham from Dehesa Extremadura
APPEARANCE: Hind leg of Spanish Iberian pig, externally lemony, classic
TEXTURE: homogeneous, compact and silky consistency.
AROMA: pleasant and characteristic.
TASTE: delicate, slightly salty
COLOR WHEN CUT: The internal cut of the Iberico acorn-fed ham from Extremadura is characteristically dark red marbled, marbled, with a lean part with infiltrated fat and a fatty part with an intermediate hue between white and yellow.
Buy acorn-fed Iberian ham Dehesa de Extremadura
The Iberian hams from the Dehesa de Extremadura are hams of extreme quality, being one of the star products of the land. Extremadura has a long tradition of pork and, in particular, a cult of ham. The ham that we offer in our store is the Extremadura acorn-fed Iberian ham with the Denomination of Origin Dehesa de Extremadura. The elaboration process of this excellent ham is carried out using completely natural processes and in an artisanal way, being one of the most demanding pastures of the ham panorama in our territory. The ham process begins with the selection of the pigs until the drying is finished. This methodology guarantees the high quality of the acorn-fed Iberian ham.
Data sheet
Origin

Maturation

More 36 months

Ingredients

Bellota Iberian ham, salt, sugar, preservatives (E-252 and E-250), antioxidant (E-301).
Specific References
EAN13

8421906541015
Shipping Cost
Shipping to
Cost

Free shipping

over

Peninsula and Portugal (except islands)
4,95€
70€
Balearics
7,50€
150€
France and Germany
15€
200€
Austria, Belgium, Czech Republic, Denmark, Holland, Hungary, Italy, Luxembourg, Poland, Switzerland and United Kingdom
20€
300€
Slovenia, Estonia, Finland, Ireland, Latvia, Lithuania, Slovakia, Romania and Sweden
30€
400€