4.51
100
Offers On sale!

Offers -20%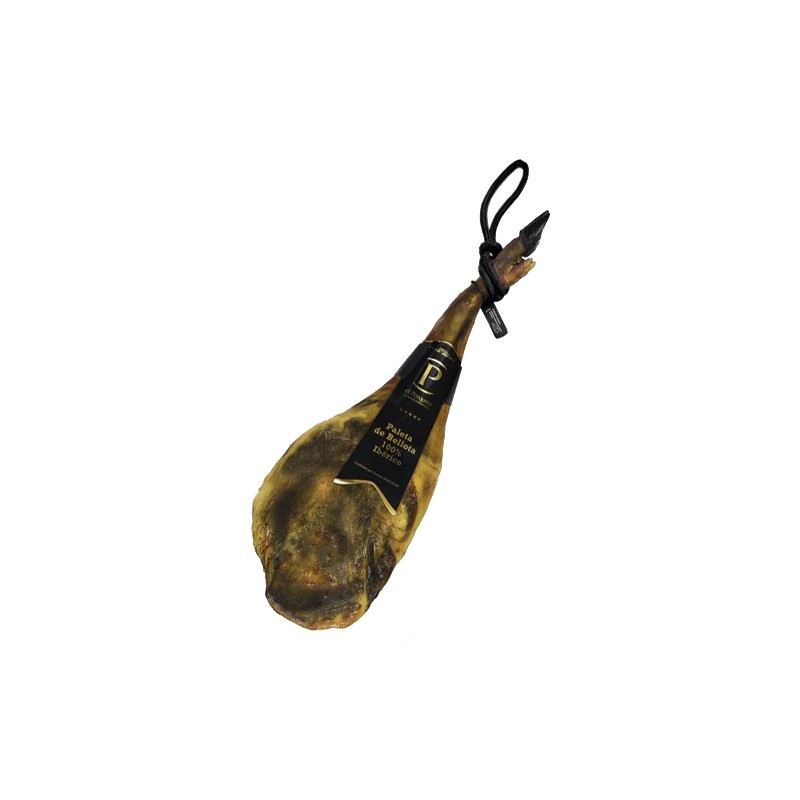  
El Porquero 100% Iberian bellota shoulder
El Porquero 100% Iberian bellota shoulder

Free shipping
over 70 €
DELIVERY 24 / 48 h
urgen service

Support and advice
More information about this product
Immerse yourself in the exquisite flavor of the El Porquero 100% Iberian Bellota Shoulder. This culinary jewel comes from purebred Iberian pigs that have been fed with acorns, thus guaranteeing an incomparable flavor and texture. Coming from the famous region of Jabugo, known for the excellence of its Iberian products, this palette is synonymous with quality and tradition.
Each piece weighs approximately 4.5-5kg and has been masterfully curated for a minimum of 2.5 years. This meticulous curing process ensures that each slice envelops you with its smooth texture and intense aromas.
Best of all, you can choose how you want to enjoy this shoulder: you can buy it whole, bone-in, to cut it at home like a professional, or you can opt for the convenience of receiving it sliced with a knife in practical 100-gram sachets.
Not only is it a delight for the palate, but it is also suitable for people with food intolerances, since it does not contain gluten or allergens. The ingredients are simple and of high quality: acorn-fed Iberian pork shoulder, salt, sugar, preservatives (E-252, E-250) and antioxidant (E-331-E-301).
Also, to enjoy all its flavor, it is important to keep the shoulder in a cool and dry place to maintain its optimal flavor and texture.
Whether for a special occasion or to treat yourself, the El Porquero 100% Ibérico Bellota Shoulder Ham is the perfect choice for those seeking the best in flavor and quality.
Hams El Porquero
Jamones El Porquero is a renowned company specialized in the production of high quality Iberian ham. With a history dating back to 1990, it has been noted for its commitment to excellence at every stage of the production process. The pigs are raised in idyllic fields, allowing them to roam freely and lead a healthy lifestyle under the attentive care of experts. Feeding the pigs is equally important, and the company produces its own feed to ensure proper nutrition. Animal handling, especially in slaughterhouses, is critical to maintaining ham quality.
After processing, the hams are stored in Jabugo for curing, a process carried out with great attention to detail to achieve a distinctive flavor and aroma. El Porquero is involved in the entire production cycle, from breeding to distribution, which allows them to eliminate intermediaries and offer affordable prices.
The company has expanded its presence in the market through specialized stores, tasting shops, delicatessens, and the catering sector. In addition, they have physical stores and a constantly growing online store, offering exceptional customer service and expert advice.
Jamones El Porquero combines tradition and quality in the production of Iberian hams. Its success is based on passion and commitment to excellence, guaranteeing products that delight the most demanding palates with their incomparable flavor.
Data sheet
Origin

Maturation

24-30 months

Ingredients

Acorn-fed Iberian pork shoulder Salt Sugar Conservatives (E-252, E-250) Antioxidant (E-331-E-301)

Nutritional information
Specific References
EAN13

8436554210275
Shipping Cost
Shipping to
Cost

Free shipping

over

Peninsula and Portugal (except islands)
4,95€
70€
Balearics
7,50€
150€
France and Germany
15€
200€
Austria, Belgium, Czech Republic, Denmark, Holland, Hungary, Italy, Luxembourg, Poland, Switzerland and United Kingdom
20€
300€
Slovenia, Estonia, Finland, Ireland, Latvia, Lithuania, Slovakia, Romania and Sweden
30€
400€